MTÜ Balti Kontart presents the idea of the BK.ee brand and proposes the creation of the Baltic Key club / BK.ee – a collaborative image marketing campaign and the central key of the system, which identifies, promotes and connects.

⚠ We are initiating an international, socially meaningful collaborative advertising campaign, and we invite you to join in.

PROMOTING THE BK.ee BRAND – YOU WILL STAND OUT AND PROMOTE YOURSELF!

TOGETHER, WE WILL CREATE A SYSTEM OF MUTUAL SUPPORT TO PROMOTE OUR GOODS AND SERVICES!

WE HAVE SOMETHING NEW TO OFFER THAT HAS NOT BEEN DONE BEFORE!

✔️ Receive and offer a gift: a double-sided pedestrian reflector with your photo or with your company's logo and the BK.ee club brand – a socially significant slogan or symbol + your brand image advertisement – promotion for you and your business.



---
---
LUCRATIVE INVESTMENTS IN SKYWAY'S NEW TRANSPORTATION SYSTEMS.

SkyWay is a fundamentally new transportation system: ecological, safe, comfortable, and considerably less expensive than all existing means.

SkyWay is not just a means of transport but also the basis for the formation of a new infrastructural order, in which transportation will cease to be a cause of the pollution of the natural world and the death of millions of people, and will become, instead, an effective, affordable, comfortable, and safe means of getting around.

Since 2014, the launch of SkyWay string transport on the world market has been financed via the contemporary model of multi-level crowdfunding (public finance).

Thanks to the multi-level partner remuneration system, the SkyWay project has been of interest to, and attractive for, not only professional investors, but also ordinary people around the world who invest in SkyWay technology.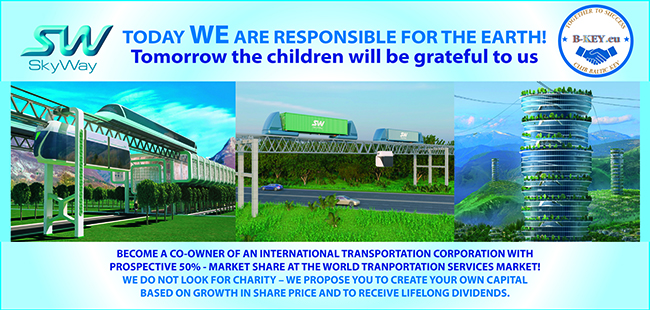 Learn more
on the SkyWay official site:
rsw-systems.com
– a resource with official information about the SkyWay string transport system and
ENTRANCE TO THE PROJECT for investors.
---
Health is what most people seek to preserve and cherish the least.
"Jean de La Bruyere"